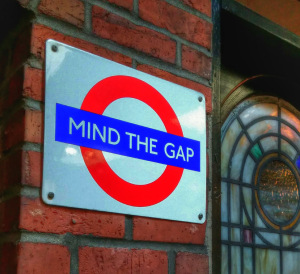 ]
Sign placed for decor in a pub I had lunch in. I had an appointment to see my doctor this morning (I'm fine), and I escaped the medical facility's vampirous clutches just at noon. Since breakfast was at 6am and it was getting awfully lonely in there, I was powerfully motivated to find some good provender — and quickly. There's an ale house down the street from my doctor here in Queen Anne, and the menu looked quite good to my famished eyes, so I stepped in and found a small unassuming table on one wall.
The whiskey tenor bartender was one of those guys who calls everyone "Bud" or "Hun" while heartily clapping their back. I'm not at all offended by such behavior, but I wonder about people who feel like they don't know him well enough to receive that sort of treatment.
I ordered some "award winning" fish tacos (Irish food), and settled in with the perky jazz trumpets while surrounded by friendly bantering fellows. It's this "hail fellow, well met" comfort that I came here for. Everyone has food, but you can't go wrong in a pub for atmosphere.
The tacos were delicious, by the way.